As the first line of defense between your family and Mother Nature, your roof is one of the most important features of your home. It often gets overlooked when it comes time for home improvement projects, so many people do not realize they have any problems until more damage is done. If you are currently in the market for a new roof or a roof replacement, then All Seasons Metal Roofing, Inc. is the perfect place to start. Our locally owned and operated business provides the best warranties in the industry on a wide variety of roofing options, especially when it comes to our high-quality metal roofing. From accurate estimates to full-service installations, you can count on our trained team to satisfy all of your metal roofing needs!
Metal roofing is one of the fastest growing segments of the home improvement industry, allowing homeowners to upgrade their homes with quality products that are built to last. While other roofing materials quickly diminish in value as they age, metal roofing provides a number of outstanding benefits:
Weather-Resistant
Minimal seaming and tough panels make a metal roof resistant to rain, hail, snow, ice and sun.
Metal roofs
are rated for high winds up to 120 miles per hour.
Durable
Metal roofs
generally last 45 years or more when properly maintained. They are resistant to rust, rot and insects, and are nearly impervious to penetration.
Energy Efficient
Metal roofs
are "cool roofs" since they reflect much of the sun's energy, helping to maintain a balanced temperature between the roof deck and the supporting structure. This helps you use less energy to heat and cool your home, reducing monthly utility bills.
Low-Maintenance
Metal roofs
require little maintenance to retain their good looks and structural integrity. Metal won't chip, fade, crack or curl like shingles.
Aesthetically Pleasing
Metal roofing
is available in multiple textures and an impressive array of colors.
Easy to Install
A
metal roofing
system can often be installed over the existing roof, avoiding the need to tear off and dispose of old roofing.
Maximum Protection for Your Property
Protecting your property is our number one priority at
All Seasons Metal Roofing
. Which is why we take a great deal of pride in our professional
metal roof
installations. We use the best metal roofing products in the industry made from top quality steel, aluminum or copper. Our metal can withstand wind forces up to 120 mph, are immune to termite damage, and resist damage caused by freezing or thawing. When you choose to install a metal roof from
All Seasons Metal Roofing
, you end up with a durable, weather-tight barrier against the elements, which is a significant upgrade for your most prized investment.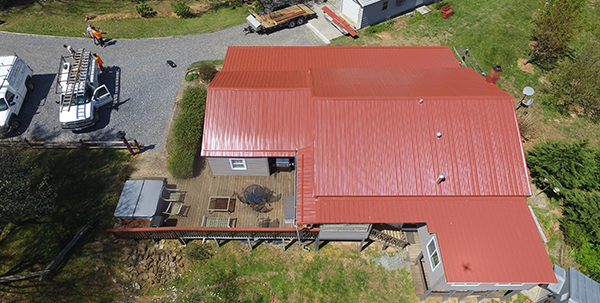 Quality Installation - Outstanding Warranties
A leading choice among homeowner's associations and commercial industries alike,
metal roofing
is quick and easy to install. Each panel can be installed directly over existing asphalt and wood shake roofs, so there is no need for tear-off and less disruption to your daily life.
Metal roofs
also carry a 40-year limited warranty for added convenience. During your free estimate, we will come out to your site and walk you through the installation process. We will make sure you have all of the information you need to make an informed decision.